A Birthday Tale: Embracing Traditional Pattupavadai from the Heart of Mumbai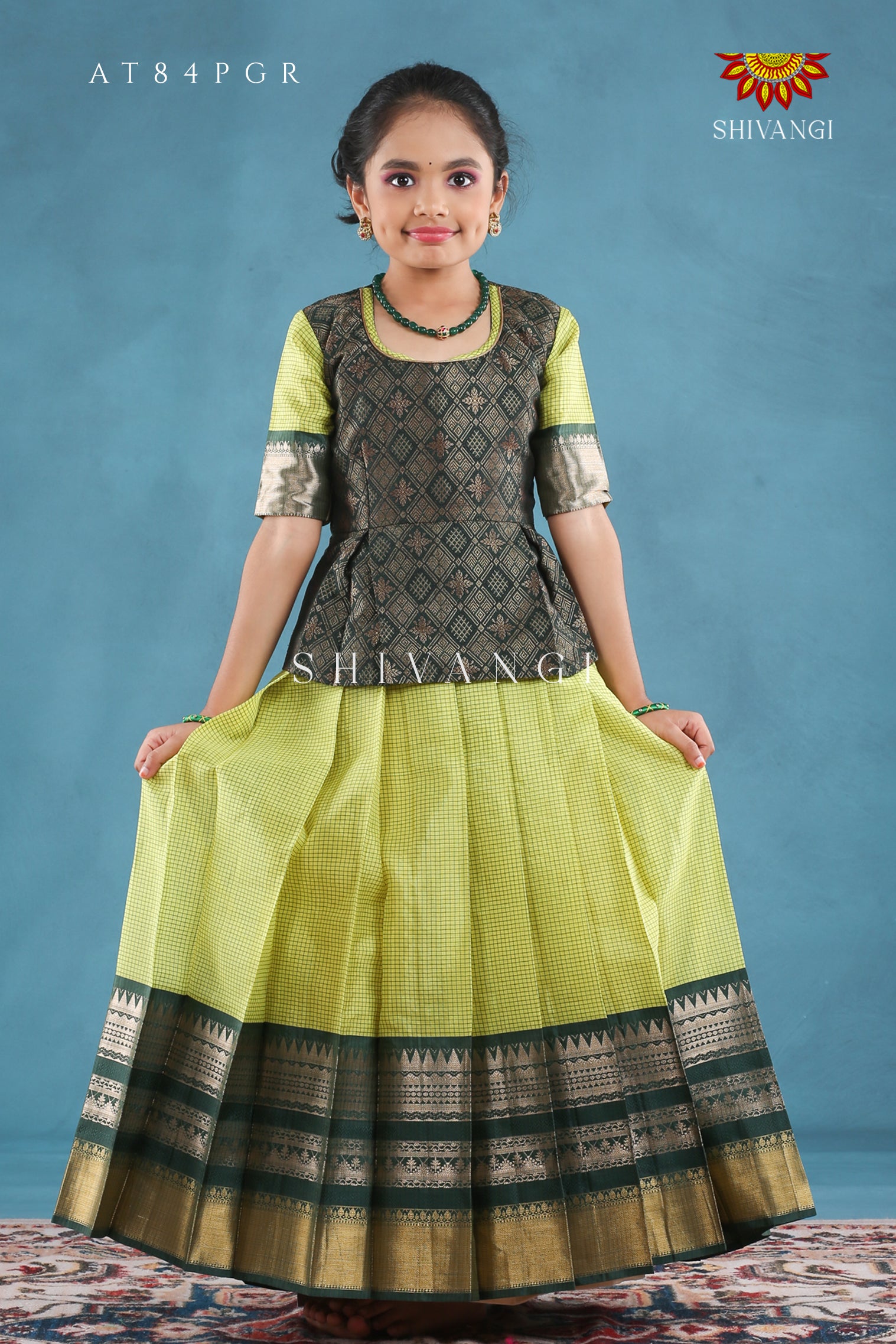 It's often said that no matter where we are, our roots always find a way to remind us of who we are. I was recently reminded of this adage as I prepared for my daughter's birthday, here in the buzzing heart of Mumbai.

We hail from Tamil Nadu, a land with a deep-rooted cultural history, resplendent festivals, and traditions passed down through generations. While the bustling streets of Mumbai have been home for years now, the essence of our Tamil heritage always finds its way into our celebrations.

This year, for my daughter Ananya's 10th birthday, I wanted to ensure she connected with our Tamil culture in a unique way. My wife and I decided that Ananya should don the traditional Tamil attire of 'Pattu Pavadai'. This is not just a dress but a rite of passage, a symbol of the vibrant Tamil culture, typically worn by young girls during festivals and important ceremonies.

But where in Mumbai would I find a genuine Pattu Pavadai? The idea of hopping from one shop to another, bargaining and settling for something less than authentic didn't appeal to me.

A friend mentioned this e-commerce portal ( www.shivangiclothing.com )that specialized in Tamil traditional attire, and though initially skeptical, I decided to give it a try. As I browsed through their collection, I was instantly captivated by the exquisite range of Pattu Pavadai designs. From vibrant colors to intricate patterns, each piece spoke of unparalleled craftsmanship.

The website interface was user-friendly and showcased each product with detailed descriptions and clear images. I appreciated the transparency with which they displayed their products, including material details and care instructions. What further alleviated my apprehension was their secure payment gateway and clear return policies.


Within minutes, I had selected a beautiful green Pattu Pavadai for Ananya. As i planned to customize pattu pavadai into long frock, I contacted their helpline team to customize my ethnic wear- pattu pavadai.
They help me easily to mention the changes of the item and asked for Ananya's measurements. After that they ask me to checkout the by mentioning the changes in the notes provided and the checkout process was seamless, and to my delight, the delivery date was well before her birthday!
Ananya - in Traditional Pattu pavadai from Shivangi
When the package arrived, it was as if a piece of Tamil Nadu had come knocking at our Mumbai doorstep. The Pattu Pavadai - in long frock style was neatly packed, ensuring no creases or damages. And when Ananya wore it, the dress fit her perfectly, as if tailored just for her. The quality of the silk and the intricacy of the zari work left us awe-struck. It was genuine, traditional, and absolutely beautiful.

On her birthday, Ananya, draped in the Pattu Pavadai was the embodiment of our Tamil heritage. The dress not only made her look like a little princess but also connected her to a lineage that we hold dear. Our guests were enchanted by her attire, and many inquired about our shopping experience.

Reflecting on this, I realized that while technology has transformed our lifestyles, it can also help us stay connected to our roots. E-commerce platforms like Shivangi Clothing enable us to embrace our traditions, even from miles away. They bridge the gap between modernity and heritage, ensuring that traditions like the Pattu Pavadai are not lost in the urban hustle.

In conclusion, as we celebrated Ananya's birthday amidst the Mumbai skyline, a piece of Tamil Nadu, in the form of a Pattu Pavadai, danced and twirled, keeping our traditions alive. A big thank you to Shivangi Clothing for making this possible and for ensuring that even in the heart of a metropolis, our roots remain strong and cherished.